UI Notification Center
The UI notification center displays job completed/error notifications until cleared. Click on the Bell icon on the top right corner of the record view page to pull down the UI notification center.

On any job completion or error notification, the UI notification icon is highlighted.

The completed job notification can also serve as a download link for the files pertaining to completed exports and report jobs.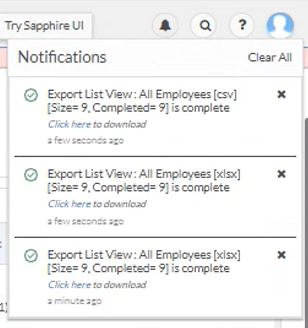 To clear any notification, click X on the specific notification or use Clear All to clear all the notifications from the notification center.
Note
: The notification centre is cleared if any customer is unloaded, then reloaded in
Platform
.