Creating a tab
As part of creating an object definition, you can define a tab. A tab appears in the application menu bar (or as a child to a tab in the application menu bar) for any selected application.
When you finish creating an object definition, the New Tab screen opens: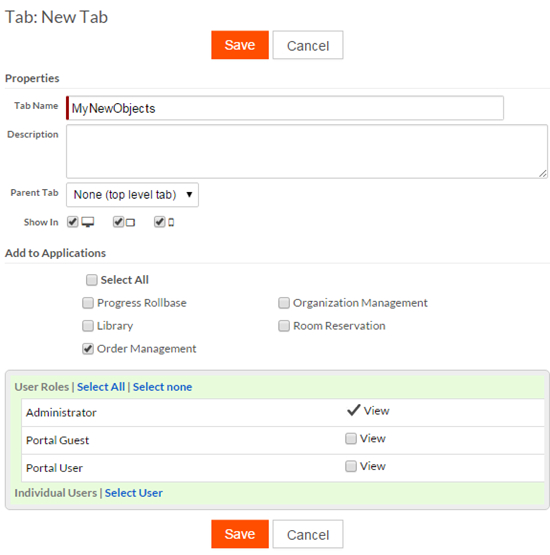 Edit the

Properties

for the tab:

Tab Name

— The label that appears on the tab. By default, it is the the plural name of the object.

Description

— An optional description

Parent Tab

— If a parent tab is selected the new tab will not appear in the application menu bar. Instead, it will be available from the drop-down menu of the parent tab.

Show In

— Specifies whether this tab is displayed on desktops, tablets, and/or smart phones. Displays on all devices by default. Deselect a device type if you do not want the tab displayed on it. Device type icons appear in the following order: desktop, tablet, smart phone. The

Tabs

section of the

Setup Application

screen contains a

Show In

column that displays the device types in which each tab appears:

In the

Add to Applications

section, select the applications to which you want to add this tab.

In the permissions table, select the roles and users you want to be able to view this tab.

Click

Save

.